Avenida Independencia pulsated – as it always does – with cars, motoconchos, and the sing-song of Dominican mouths.
Through the haze of bus exhaust, a woman with dark hair parted in the middle quietly tended to sunflowers on the sidewalk. Marilexi Melenciano focused on the day's supply from atop a large can of cooking oil, empty and crushed like an accordion.
A few open sunflowers drooped. Some had not yet bloomed. Marilexi picked one from the cluster she kept in a five-gallon Pinturas Popular bucket. She pressed a lollipop stick against the flower's receptacle and stem.
"The sunflowers always come like this – without strength," Marilexi explained in Spanish. "People think they're dead."
But there's a technique to give the girasoles a lift. To make them more attractive. Marilexi wrapped Scotch tape tightly around both the stick and flower's hairy stem. Back to the bucket it went – now rigid, taller.
A soft smile spread on her face, with a hint of pride.
"Tomorrow they'll all open up."
Marilexi has been selling flowers in Santo Domingo's 30 de Mayo barrio for close to a year. She gets up around 4 a.m. every day to pick up some flowers. She leaves her home in San Cristóbal to travel over an hour by bus, to occupy the same spot in the same corner off Calle Sanchez. A nearby business allows her to store the remaining flowers in the bathroom overnight, so as the sun begins to spread its rays, she retrieves them – her arms lugging each bucket.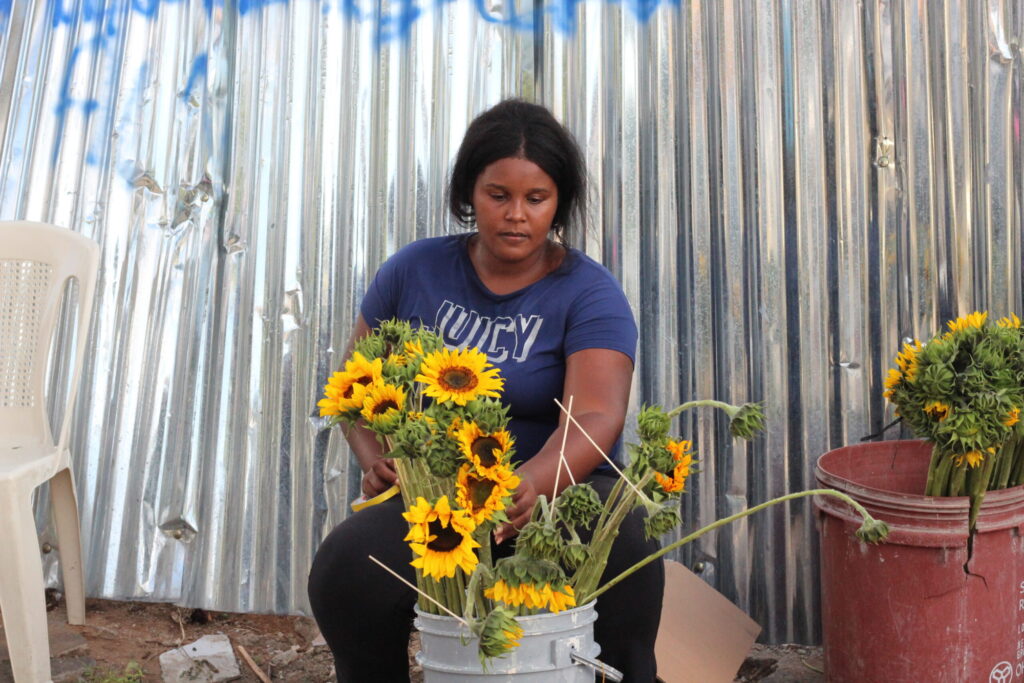 Marilexi positions her bursts of color where pedestrians stand to wait to cross la avenida and where motorists get stopped by a red light. Magenta and white daisies, pink roses, red roses, white roses, eucalyptus stems and other green filler flowers. A tarp cover protects the pretty inventory from the elements. The florista sits a few feet away, near a static group of viejos who likely talk about politics for much of the day. She sells single roses and arranges bouquets of all sizes nearby on a low wooden table.
Marilexi knows her flowers. She comes from women who sell them: her mother, all her tías, and her late maternal grandmother. Even a tío makes it his living. When her abuela Mercedes was alive, school was never prioritized. Perhaps they didn't have the privilege to do so.
"This was the inheritance she left us… she taught us only to sell flowers," Marilexi recalled. "She's the one who taught me."
Flowers were the family business, so the matriarch brought Marilexi along. She was five years old the first time she accompanied her abuela for a day's work.
By 12, Marilexi was able to hold her own. She's now 26.
"I've always liked flowers. They attract attention and they bring happiness, too," she said. "I always take flowers home with me."
Just yesterday, she said, a man walking by stopped to ask how much each pink rose cost. Fifty pesos, she told him. He paid for two, then handed them back to her.
Of all the flowers she's come across, sunflowers are Marilexi's favorite. That's why she buys so many to sell. Their color is joy, she said.
And roses, too. They brim with passion.
"If someone loves you, they give you roses," she said.
As Marilexi spoke, Scotch tape screeched as she wrapped around another sunflower stem and lollipop stick.
"People don't understand the value of flowers," she said. "Many people don't know."
A man passed by her one day and questioned aloud why she sells flowers if they're "pa' muertos." He thought petals were reserved for the dead.
This is nature, Marilexi said. She believes flowers come from God.
"And when something is natural, it shines. It brings something good into your home, into your relationship, too. When someone gives you that bouquet – tan bonita, natural – that is love."